Atlas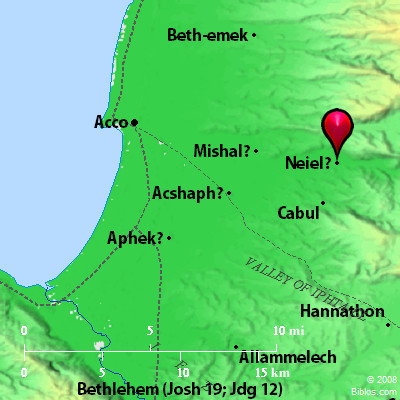 ---
Maps Created using Biblemapper 3.0
Additional data from OpenBible.info
---
You are free to use up to 50 Biblos coprighted maps (small or large) for your website or presentation. Please credit Biblos.com.
Occurrences
Joshua 19:13
From there it passed along eastward to Gath Hepher, to Ethkazin; and it went out at Rimmon which stretches to Neah.
Encyclopedia
NEAH
ne'-a (ha-ne`ah, "the neah"; Annoua): A town in the lot of Zebulun (Joshua 19:13), mentioned along with Gath-hepher and Rimmon. It is possibly identical with "Neiel" (Joshua 19:27). No name resembling either of these has yet been recovered, although the district in which the place must be sought is pretty definitely indicated. It may probably have lain to the North of Rimmon (Rummaneh), about 4 miles Northeast of Seffuriyeh.
Strong's Hebrew
H5269: Neah
a place in Zebulun