Atlas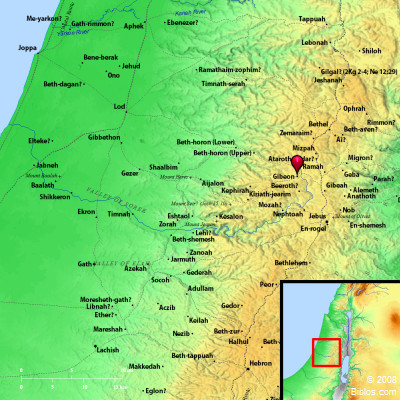 ---
Maps Created using Biblemapper 3.0
Additional data from OpenBible.info
---
You are free to use up to 50 Biblos coprighted maps (small or large) for your website or presentation. Please credit Biblos.com.
Occurrences
Ezekiel 20:29
Then I said to them, What does the high place where you go mean? So its name is called Bamah to this day.
Encyclopedia
BAMAH
ba'-ma, ba'-ma (bamah, "high place"): The word appears in Ezekiel 20:29 where reference is made to former "high-place worship," the prophet speaking with contempt of such manner of worship. Ewald suggests a play of words, ba', "come" and mah, "what," "what (mah) is the high place (ba-mah) whereunto ye come (ba')?" It is possible that reference is made to a prominent high place like the one at Gibeon (compare 1 Kings 3:4 1 Chronicles 16:39; 1 Chronicles 21:29 2 Chronicles 13) for which the name "Bamah" was retained after the reform mentioned by the prophet.
Strong's Hebrew
H1117: Bamah
a high place (for idols) in Isr.