Atlas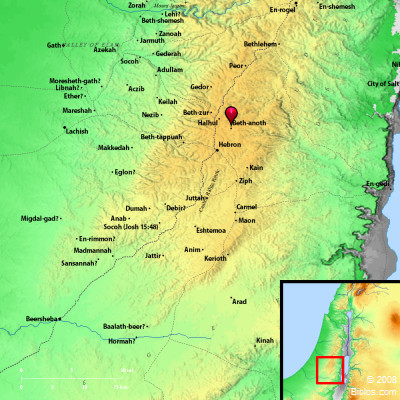 ---
Maps Created using Biblemapper 3.0
Additional data from OpenBible.info
---
You are free to use up to 50 Biblos coprighted maps (small or large) for your website or presentation. Please credit Biblos.com.
Occurrences
Joshua 15:59
Maarath, Beth Anoth, and Eltekon; six cities with their villages.
Encyclopedia
BETH-ANOTH
beth-a'-noth (beth`anoth; Baithanam, probably "House of Anath"-a god; Joshua 15:59): The ruin of Beit `Ainun, 1 1/2 miles Southeast of Halhul, in the neighborhood also of Bethzur and Gedor-places mentioned in association with it as towns in the hill country of Judah-appears to be a probable site. The present surface ruins belong to later ages.
---
BETH-A'NOTH, probably at Beit Ainun, 3 ms. n.e. of Hebron.
Strong's Hebrew
H1042: Beth-anoth
perhaps "temple of Anat," a place in Judah