Atlas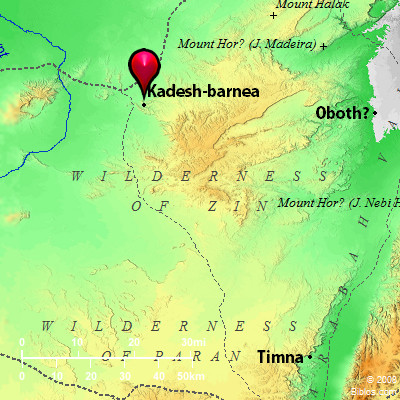 ---
Maps Created using Biblemapper 3.0
Additional data from OpenBible.info
---
You are free to use up to 50 Biblos coprighted maps (small or large) for your website or presentation. Please credit Biblos.com.
Occurrences
Genesis 16:7
The angel of Yahweh found her by a fountain of water in the wilderness, by the fountain in the way to Shur.
Genesis 16:14 Therefore the well was called Beer Lahai Roi. Behold, it is between Kadesh and Bered.
Genesis 24:62 Isaac came from the way of Beer Lahai Roi, for he lived in the land of the South.
Genesis 25:11 It happened after the death of Abraham that God blessed Isaac, his son. Isaac lived by Beer Lahai Roi.
Genesis 25:20 Isaac was forty years old when he took Rebekah, the daughter of Bethuel the Syrian of Paddan Aram, the sister of Laban the Syrian, to be his wife.
Encyclopedia
BEER-LAHAI-ROI
be-er-la-hi'-roi, be-er-la-hi-ro'-i (be'er lachai ro'i, "well of the Living One that seeth me"): "A fountain of water in the wilderness," "the fountain in the way to Shur" (Genesis 16:7-14). It was the scene of Hagar's theophany, and here Isaac dwelt for some time (Genesis 16:7; Genesis 24:62; Genesis 25:11). The site is in The Negeb between Kadesh and Bered (Genesis 16:14). Rowland identifies the well with the modern `Ain Moilaihhi, circa 50 miles South of Beersheba and 12 miles West of `Ain Kadis. Cheyne thinks that Hagar's native country, to which she was fleeing and from which she took a wife for Ishmael, was not Egypt (mitsrayim), but a north Arabian district called by the Assyrians Mucri (Encyclopedia Biblica).

S. F. Hunter
Strong's Hebrew
H883: Beer Lachay Roi
"well of the living One that sees me," a place in the desert