Atlas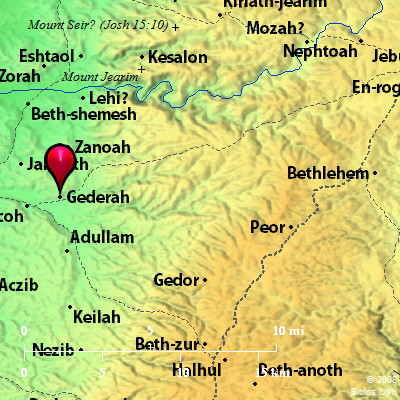 ---
Maps Created using Biblemapper 3.0
Additional data from OpenBible.info
---
You are free to use up to 50 Biblos coprighted maps (small or large) for your website or presentation. Please credit Biblos.com.
Occurrences
Joshua 15:36
Shaaraim, Adithaim and Gederah (or Gederothaim); fourteen cities with their villages.
1 Chronicles 4:23 These were the potters, and the inhabitants of Netaim and Gederah: there they lived with the king for his work.
1 Chronicles 12:4 and Ishmaiah the Gibeonite, a mighty man among the thirty, and over the thirty, and Jeremiah, and Jahaziel, and Johanan, and Jozabad the Gederathite,
Encyclopedia
GEDERAH; GEDERATHITE
ge-de'-ra, ge-de'-ra-thit (ha-gedherah, "the enclosed place"): A town in the Shephelah of Judah, named with Socoh, Azekah, Shaaraim and Adithaim (Joshua 15:36). In 1 Chronicles 4:23 the Revised Version (British and American) reads, "the inhabitants of Netaim and Gederah," for the King James Version, "those that dwelt among plants and hedges." It is probably represented by Khirbet Jadireh, about 3 miles Southwest of Gezer. "Gederathite," applied to Jozabad (1 Chronicles 12:4), probably meant an inhabitant of this place.
Strong's Hebrew
H1449: Gederah
"wall," a city in Judah