Atlas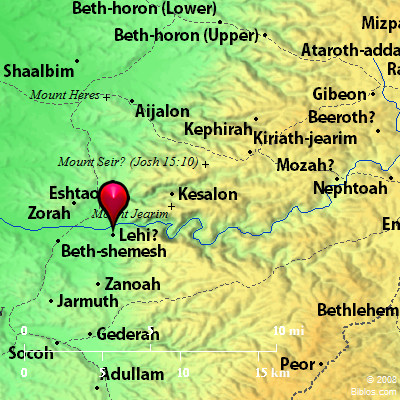 ---
Maps Created using Biblemapper 3.0
Additional data from OpenBible.info
---
You are free to use up to 50 Biblos coprighted maps (small or large) for your website or presentation. Please credit Biblos.com.
Occurrences
Judges 15:9
Then the Philistines went up, and encamped in Judah, and spread themselves in Lehi.
Judges 15:14 When he came to Lehi, the Philistines shouted as they met him: and the Spirit of Yahweh came mightily on him, and the ropes that were on his arms became as flax that was burnt with fire, and his bands dropped from off his hands.
Judges 15:19 But God split the hollow place that is in Lehi, and water came out of it. When he had drunk, his spirit came again, and he revived: therefore its name was called En Hakkore, which is in Lehi, to this day.
2 Samuel 23:11 After him was Shammah the son of Agee a Hararite. The Philistines were gathered together into a troop, where there was a plot of ground full of lentils; and the people fled from the Philistines.
Encyclopedia
RAMATH-LEHI
ra'-math-le'-hi (ramath lechi, "the hill" or "height of Lehi"; Anairesis siagonos): So the place is said to have been called where Samson threw away the jaw-bone of an ass, with which he had slain 1,000 Philistines (Judges 15:17). The Septuagint seems to have supposed that the name referred to the "heaving" or throwing up of the jaw-bone. The Hebrew, however, corresponds to the form used in other placenames, such as Ramath-mizpeh, and must be read as "Ramah of Lehi." The name Lehi may have been given because of some real or imagined likeness in the place to the shape of a jaw-bone (Judges 15:9, 14, 19). It may have been in Wady es-Sarar, not far from Zorah and Timnath; but the available data do not permit of certain identification.

See JAWBONE; LEHI.

W. Ewing
Strong's Hebrew
H3896: Lechi
a place probably in Judah